Metal Detectable Knives
Knives made of metal detectable plastic material
Lost? Found!
Cutter bodies made of a new metal detector-responding material, identified by their "blue" plastic components.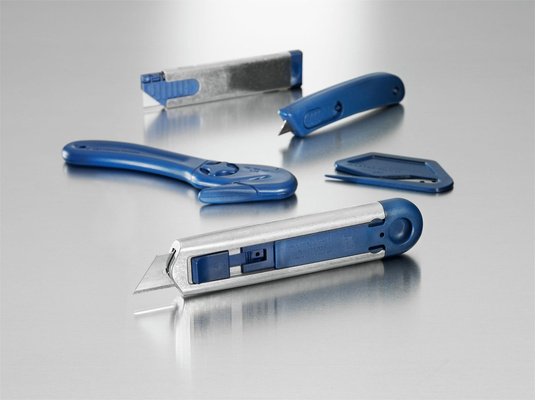 Foreign matter, which enters the production process, can result in machine damage, product recalls or in the worst case, even cause injuries to consumers. In addition to the costs which are incurred directly as a result of a product recall, the damage to one's reputation can cause damages that are many times higher.
As a precaution against this risk, we recommend the use of metal-detectable knives for manual cutting work, especially for the production of foods and pharmaceutical products. But all metal-detectable products (MDP) are not the same. There are serious differences with regard to detection reliability, depending on the composition of the material.
11,65 EUR

(incl. 16 % Tax excl. Shipping costs)



Grundpreis 11,65 EUR per piece

Shipping time: 3-4 Days
10,23 EUR

(incl. 16 % Tax excl. Shipping costs)



Shipping time: 3-4 Days
10,82 EUR

(incl. 16 % Tax excl. Shipping costs)



Shipping time: 3-4 Days
6,44 EUR

(incl. 16 % Tax excl. Shipping costs)



Shipping time: 3-4 Days
17,49 EUR

(incl. 16 % Tax excl. Shipping costs)



Shipping time: 3-4 Days
2,88 EUR

(incl. 16 % Tax excl. Shipping costs)



Shipping time: 3-4 Days
7,26 EUR

(incl. 16 % Tax excl. Shipping costs)



Shipping time: 3-4 Days
3,85 EUR

(incl. 16 % Tax excl. Shipping costs)



Shipping time: 3-4 Days
69,59 EUR

(incl. 16 % Tax excl. Shipping costs)



Shipping time: 3-4 Days
11,59 EUR

(incl. 16 % Tax excl. Shipping costs)



Shipping time: 3-4 Days
| | |
| --- | --- |
| Show 1 to 10 (of in total 10 products) | Sites: 1 |