Professional Cleaners
Not just for business,

even for their home.
Our tip: Orange-Ex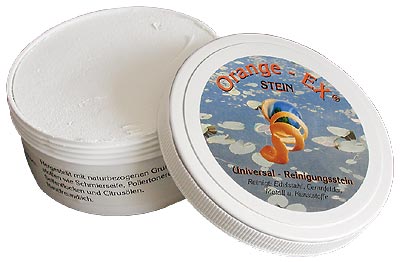 More sub catagories:
Decalcify

Scale-free powder from 700 g also

Available as 100 g to 5 kg loose.

Kitchen cleaner

Everything for the kitchen.

Hand detergent, degreaser,

Dishwasher tabs & more.

Special aids

We recommend:

Cement-lime remover veil.

Also available in 5 pound containers.

Sprayer

Sprayer to dilute for various cleaning products.
New Products
7,08 EUR
(incl. 19 % Tax excl. Shipping costs)



Grundpreis 7,08 EUR per Liter

1 Week
7,08 EUR
(incl. 19 % Tax excl. Shipping costs)



Grundpreis 7,08 EUR per Liter

1 Week
8,27 EUR
(incl. 19 % Tax excl. Shipping costs)



Grundpreis 8,27 EUR per Liter

1 Week
15,41 EUR
(incl. 19 % Tax excl. Shipping costs)



Grundpreis 3,08 EUR per 100 ml

1 Week
23,74 EUR
(incl. 19 % Tax excl. Shipping costs)



Grundpreis 23,74 EUR per Kilo

1 Week
5,89 EUR
(incl. 19 % Tax excl. Shipping costs)



Grundpreis 5,89 EUR per Liter

1 Week
7,74 EUR
(incl. 19 % Tax excl. Shipping costs)



Grundpreis 15,48 EUR per Liter

3-4 Days
11,54 EUR
(incl. 19 % Tax excl. Shipping costs)



Grundpreis 11,54 EUR per Liter

1 Week
7,08 EUR
(incl. 19 % Tax excl. Shipping costs)



Grundpreis 7,08 EUR per Liter

1 Week